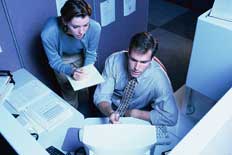 We are proud to have successfully implemented and supported ERP systems throughout the state. Our clients have helped us become known as a premier business partner and we are grateful for their continued support.
One particular software package that we are most familiar with is a leading provider of ERP software for the mid-sized manufacturer. This software package has been on the market for many years and has evolved to where it is today because of their commitment to providing a reliable product that meets and exceeds customer expectations.
We have witnessed the evolution of this software package first-hand and we have an established track record of successful installation, user training, business process improvement and on-going technical support.
We use a proven methodology for implementing the solution. Our approach has been developed and refined over years of working with this package and installing it in many different companies.
We combine technical expertise with practical experience to provide our clients with realistic, cost-effective solutions. We have applied knowledge in many different disciplines and have gained specific experience with all of the available modules.
We have been instrumental in helping our clients achieve even greater success with the software solution by helping them deploy customizations to make their process run more smoothly and efficiently. We have successfully integrated legacy applications and supplemental utilities, providing a cohesive, single business process. We use a proven methodology and approach consisting of an in-depth needs analysis, structured development, testing and deployment.