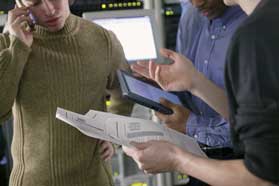 We have over 40 years of combined experience in developing custom software applications. We remain on the leading edge of technology so we can develop systems and applications that are easy for your project team to deploy, easy for the users to maintain and easy for us to support. We use established tool sets and industry-accepted guidelines to avoid risky, proprietary utilities and to protect your IT investment. This means that your project will be accurate, cost effective and completed in a timely manner.
The majority of our custom development work utilizes the Microsoft tool set including SQL, Access, Visual Basic and, more recently .NET. We keep up with development trends so we can help our clients take advantage of new technology including distributed processing and E-Commerce. We have the expertise to design a practical solution for you, and recommend the most appropriate tool set for your specific situation.
We bring a practical view to the design phase based on actual on-the-job experience so you realize maximum return on your investment. Our team of developers comes from a variety of industries and consequently, we know first hand what works and what doesn't work. We use technology as an enabler to provide practical, high-quality solutions to everyday problems.
One of the biggest challenges in custom development work is overcoming 'scope creep.' Scope creep occurs when the functional requirements are not well defined and agreed upon at the start. Then, while the application is being developed, new ideas arise and the initial reaction is to include those ideas in the development project. Once scope creep begins, the project can take on a life of its own. Functionality encompasses more and more while implementation dates are delayed and the total project cost suddenly increases dramatically. Our custom development work utilizes comprehensive project management techniques and change management control techniques to ensure the highest quality finished product. This project management style guards against 'scope creep' while aggressively attacking the business problem so you get a real problem solution, not just another software package.
Approach - Our approach to custom development has been refined over many years of successful implementations. We have a proven track record of consistently providing cost effective solutions for our clients helping them achieve the best possible return on their information systems investment.
Examples - From simple utilities to complex integrations, we have the technical expertise and practical experience to provide efficient, cost-effective solutions that are easy to use and maintain. Many of our solutions have been in use for years, attesting to the viability of our process.