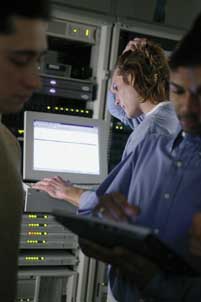 The only constant is change. That old adage is especially true in the realm of Information Technology (IT). New computers, programs and peripheral equipment are being developed and released almost daily. In the meantime, the business climate is constantly changing too. Today's business leader faces the never-ending challenge of keeping up with new technology, maintaining company efficiency and staying cost effective, all while positioning the company for future success.
Introducing VISE: Your IT Department
Our Virtual Information System Executive (VISE) service can help your organization get the best possible return on your Information Technology investment. With VISE, we actually take over the administration of the IT department and any staff as if we worked for you and usually at a far lower cost than a full-time IT department. We maintain a continuous on site presence and regularly interact with users, management and your customers or vendors to make sure that your IT resources are being used to their most efficient, practical and cost-effective potential.
Our clients have realized some or all of these benefits from our System Administration services:
Lower Cost of Ownership

Outsourcing the IT department is often less expensive than the cost of salaries, benefits and human resource issues that come with a full-time staff. We also work closely with the management team to acquire new hardware and software, assisting in the decision-making process to your best advantage.

Top-notch skill sets at a fraction of the cost

We bring you expertise gained through experience and education, and deliver that know-how at a reasonable price compared to full time personnel.

Problem-solving ability

The collective experience of the associates in our Systems Administration group is often greater than most companies' IT staff combined. We've gained valuable knowledge from a large number of companies by working through their particular problems and issues. Now, we can pass along many practical, cost effective solutions to our clients - solutions that are in your best interest.

General Business Experience

We pride ourselves on our professionalism and our ability to communicate effectively with the entire spectrum of people in a business environment. We not only can speak and understand the language of the computer-savvy folks but we also speak and understand the language of the management team. This allows us to bridge the gap between the technical business requirements and the non-technical business directives.

Improved Customer and Vendor Relationships

We act as the liaison between you and your customers and/or suppliers in order to achieve the most efficient and profitable partnerships possible. If your customer or vendor requires the use of a certain software package or function such as Quality Control programs, EDI or bar coding, we have the know-how in these fields and will work with your customer to implement a mutually beneficial system that also creates goodwill for you. In addition, we have worked with suppliers to synchronize the supply chain, resulting in lower overall costs and increased efficiency.

Key Performance Indicators and Improved Management Information

We have been instrumental in developing quick and easy access to the most pertinent information that managers need to run your business more effectively. This means improved cash flow, lower fixed and variable costs and a better work environment.
Part of VISE is a free initial analysis. Fill out this form to get started.